All Semantic SP Web Parts and solutions have been developed by iQuest Group and Semantic Web Company, two highly reputated companies in their field.
iQuest Group
For more than 16 years, iQuest has been delivering an extensive portfolio of professional services and customised software solutions across Europe, MEA and the US. With a successful combination of technical expertise and service excellence, iQuest drives long-term business value for leading companies in Life Sciences, Telecom, Financial Services, Transportation and Energy.
Headquartered in Germany, with local teams in Switzerland, Romania and the US, iQuest currently employs more than 500 people.
iQuest is Microsoft Gold Independent Software Vendor and Gold Content Management Partner, and sole Microsoft Germany Near shore Partner.
Semantic Web Company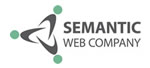 Semantic Web Company (SWC) is a provider of semantic technologies based in Vienna.
Since 2004 SWC has been supporting organizations from all industrial sectors worldwide to improve their information management.
SWC's core product has outstanding capabilities to extract meaning from big data by making use of linked data technologies.
Partner network
Our partners deliver professional services which are specific to various industries. They work in the areas of collaborative environments, taxonomy and thesaurus management.
Some of our partners belong to those companies which have the highest reputation in the areas of taxonomy management, ontology engineering, and the semantic web.
Interested to join the network? Get in contact with us and learn more about the opportunities.